BY MIKE METTLER – FEBRUARY 8, 2018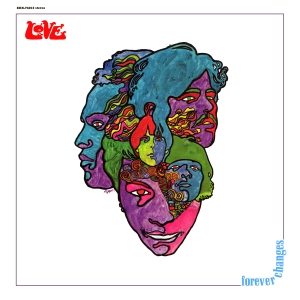 Love's Forever Changes is generally acknowledged today as the Los Angeles-bred psychedelic folk-rock pioneers' finest achievement, though it was mostly overlooked when it was released in November 1967. However, four decades later, in 2008, the album was inducted into the Grammy Hall of Fame, and in 2012, The Library of Congress added it to the National Recording Registry.
Rhino will celebrate the acclaimed album's golden anniversary with an extensive 4CD/DVD/LP collection dubbed Forever Changes: 50th Anniversary Edition on April 6, 2018. It will be housed in a beautifully illustrated 12×12-inch hardbound book that also features a newly written essay and track-by-track notes by music historian Ted Olsen.
The collection features a few firsts for Forever Changes, including the CD debut of a remastered version made by its original co-producer and engineer Bruce Botnick, as well as the first-ever release of the mono version on CD. Also included are alternate mixes of the album, as well as a selection of rare and unreleased singles and studio outtakes. Botnick's stereo remaster of the original album also makes its vinyl debut on the LP included with this set, as cut from high-resolution digital audio tracks by celebrated audio engineer Bernie Grundman.
The DVD that accompanies the anniversary collection includes a 96kHz/24-bit stereo mix of the album version of the original album remastered by Botnick. Also featured is "Your Mind and We Belong Together," a rare promotional video directed by Elektra producer Mark Abramson that was originally released in 1968.
Recorded during the Summer of Love in Hollywood, Forever Changes is the group's most fully realized studio effort, featuring Arthur Lee (vocals, guitar), Johnny Echols (lead guitar), Bryan MacLean (rhythm guitar, vocals), Ken Forssi (bass), and Michael Stuart (drums, percussion). The original album introduced classics like "Andmoreagain," "Red Telephone," "A House Is Not a Motel," and "Alone Again Or."
Forever Changes: 50th Anniversary Edition boasts more than a dozen rarities, including single versions of "Alone Again Or" and "A House Is Not a Motel" that are available for the first time since 1967. Two other recordings on the set have never been released: the backing track for "Live and Let Live," and an outtake backing track for "Wonder People (I Do Wonder)."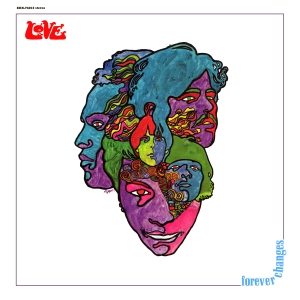 LOVE: FOREVER CHANGES – 50TH ANNIVERSARY EDITION
TRACK LISTING
Disc One: Original Album
1.    "Alone Again Or"
2.    "A House Is Not A Motel"
3.    "Andmoreagain"
4.    "The Daily Planet"
5.    "Old Man"
6.    "The Red Telephone"
7.    "Maybe The People Would Be The Times Or Between Clark And Hilldale"
8.    "Live And Let Live"
9.    "The Good Humor Man He Sees Everything Like This"
10.  "Bummer In The Summer"
11.  "You Set The Scene"
Disc Two: Mono Mix
1.    "Alone Again Or"
2.    "A House Is Not A Motel"
3.    "Andmoreagain"
4.    "The Daily Planet"
5.    "Old Man"
6.    "The Red Telephone"
7.    "Maybe The People Would Be The Times Or Between Clark And Hilldale"
8.    "Live And Let Live"
9.    "The Good Humor Man He Sees Everything Like This"
10.  "Bummer In The Summer"
11.  "You Set The Scene"
Disc Three: Alternate Mix
1.    "Alone Again Or"
2.    "A House Is Not A Motel"
3.    "Andmoreagain"
4.    "The Daily Planet"
5.    "Old Man"
6.    "The Red Telephone"
7.    "Maybe The People Would Be The Times Or Between Clark And Hilldale"
8.    "Live And Let Live"
9.    "The Good Humor Man He Sees Everything Like This"
10.  "Bummer In The Summer"
11.  "You Set The Scene"
12.  "Wonder People (I Do Wonder)" – Outtake – Alternate Mix
Disc Four: Singles and Outtakes
1.    "Wonder People (I Do Wonder)"
2.    "Alone Again Or" – Single Version
3.    "A House Is Not A Motel" – Single Version
4.    "Hummingbirds" – Demo
5.    "A House Is Not A Motel" – Backing Track
6.    "Andmoreagain" – Alternate Electric Backing Track
7.    "The Red Telephone" – Tracking Sessions Highlights
8.    "Wooly Bully" – Outtake
9.    "Live and Let Live" – Backing Track *
10.  "Wonder People (I Do Wonder)" – Outtake, Backing Track *
11.  "Your Mind And We Belong Together" – Tracking Sessions Highlights
12.  "Your Mind And We Belong Together"
13.  "Laughing Stock"
14.  "Alone Again Or" – Mono Single Remix
DVD: 96/24 Stereo Mix
1.    "Alone Again Or"
2.    "A House Is Not A Motel"
3.    "Andmoreagain"
4.    "The Daily Planet"
5.    "Old Man"
6.    "The Red Telephone"
7.    "Maybe The People Would Be The Times Or Between Clark And Hilldale"
8.    "Live And Let Live"
9.    "The Good Humor Man He Sees Everything Like This"
10.  "Bummer In The Summer"
11.  "You Set The Scene"
12.  "Your Mind And We Belong Together" – Video

LP
Original Album

Side One
1.    "Alone Again Or"
2.    "A House Is Not A Motel"
3.    "Andmoreagain"
4.    "The Daily Planet"
5.    "Old Man"
6.    "The Red Telephone"
Side Two
1.    "Maybe The People Would Be The Times Or Between Clark And Hilldale"
2.    "Live And Let Live"
3.    "The Good Humor Man He Sees Everything Like This"
4.    "Bummer In The Summer"
5.    "You Set The Scene"
* Previously Unreleased