BY MIKE METTLER — AUGUST 20, 2016
ev*o*lu*tion noun. An unfolding, a process of development, as from a simple or complex form, or of gradual, progressive change. See also: The Tragically Hip.
In honor of The Hip playing the final show of their brief Man Machine Poem Summer 2016 Tour tonight in their hometown of Kingston, Ontario — which can be watched  starting at 8:30 p.m. Eastern on CBC TV, or via live stream on cbcsports.ca and the CBC Sports app, in addition to other interesting ways — I'm revisiting some of the conversations I've had with the band over the 25-plus years I've been honored to call them my friends.
To borrow a line from my favorite Hip song, "Springtime in Vienna" (from 1996's Trouble at the Henhouse), men hear of the secret, but just what exactly is the secret to the sound of The Hip? "It's the sound of five guys in a room, playing together," vocalist/lyricist Gord Downie told me back in 2004. "The feeling these songs give me from the studio to the stage is not that big a jump."
And if there's one thing The Tragically Hip are all about, it's sharing that experience. Their music is their bond — not only with each other, but with their audience. Hip music is a two-way mirror that not only reflects the thoughts and feelings of its creators, but those of its listeners as well. Once you "get" The Hip, you're "got" for life.
The original Hip lineup was forged by five close-knit friends in the aforementioned Canadian town of Kingston, Ontario, and it has remained intact since 1984: Downie, whose mesmerizing stage presence is the union of laser-quick verbal and physical improvisational skill, is supported by the churning yin-yang of guitarists Paul Langlois and Rob Baker and the intuitive rhythm section of bassist Gord Sinclair and drummer Johnny Fay, AKA "The Hip Pocket."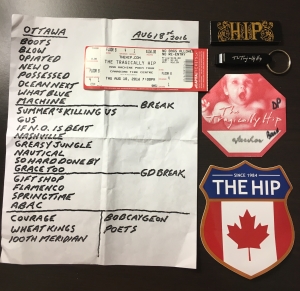 I attended The Hip show at the Canadian Tire Center in Ottawa this past Thursday night, August 18, the 92nd time I've had the privilege of seeing them live, and it was an exhilarating fire-on-all-cylinders night. The set was broken down into pockets of album-centric blocks as you can see in the setlist seen here, from 1989's Up to Here to 1994's Day for Night to 2004's In Between Evolution. and their current 2016 offering, Man Machine Poem. A pleasant surprise was Evolution's "It Can't Be Nashville Every Night," which I could hear the band soundchecking around 5 p.m. while I was in line at will call to pick up my fourth-row dead-center tickets that I bought a few months back via the fan presale.
"Musicians should never have 2 days off — ever," Downie chuckled when he told me the origin behind that track. "You know, I don't think I've ever left Nashville without a song. The history there is palpable. Wandering around town without a gig, I took some kind of weird solace imagining Toby Keith in some kind of a little-too-small GI uniform and an ill-fitting helmet, making his charge across the battlefields of Belgium and winking into the camera, 'It can't be Nashville every night.'"
When you step back to take a bird's eye view of a bird's eye view of Hip music, you can see how it not only touches on so many personal and emotion levels, but it also casts as a watchful eye on the events of our world. "In my mind, there's always a TV flickering away in the corner of every song," Downie theorized. "It's there all the time, tuned in to FOX News. TV is the main source of information. It's the biggest part of everyone's diet, and, in some cases, it's the only source. It makes one unsettled, and, I think, kind of afraid. That's all there."
A few years back on November 13, 2012, I saw The Hip put on a blazing set at the Theatre of the Living Arts (TLA) in Philadelphia in support of their then-new album Now for Plan A. Afterwards, I was escorted backstage to join the band in an upstairs dressing room, where, after mutually geeking out about finally being able to see The Hobbit in a theater, Downie and I got down to talking about vinyl, a favorite longstanding topic of ours.
For him, listening to vinyl has been a joyful family affair for years, and spinning records is always preferable to cueing up CDs or streaming music files. "Vinyl is a group activity, a family activity. It is a performance," he observed, leaning forward on the couch we were sharing. "I have always felt that vinyl infiltrates a room more subtly and more consistently than a CD. To have dinner serenaded by a CD player means to be forever rising up from the table to adjust the volume. A CD just never 'sits' right."
And, he reports, all of his family members tended to participate in the experience. "My kids seem to recognize and cherish the importance of being the one to choose the perfect side for any occasion," he continued. "They keep that choice secret, preferring it to be unveiled, to better enjoy the delight of a simple, 'nice one' from their 'audience'." (Sounds familiar, doesn't it?)
Part of it is that analog just brings us closer to the music: "I see my kids making deeper connections with songs because they are on vinyl. It's just a real trip to watch your teenage daughter falling for [David Bowie's] Ziggy Stardust, staring deeply at the cover and flipping the record over and over — just like you did."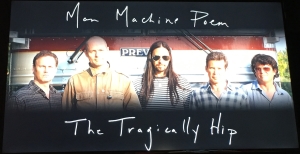 Conveying feeling is key, and hearing on album on wax puts you that much closer to the music's intent. "I think that vinyl is better able and suited to translate the emotional message of this record," Downie said of Plan A (and it's something that could easily be applied to the band's current album as well). "One of my favorite Hip songs ever is 'Man Machine Poem,' and a strong and fulsome emotional resonance was the subtext I was after in the recording of this record. It seems emotion was one of the first casualties of the digital audio age."
In the end, the band's own emotional evolution comes back to relationships — perhaps most importantly, the enmeshing of these five men who have made such beautiful, touching, personal music together for decades unbound by borders, real or imagined. "It's a special thing to have five like-minded guys in the studio, all on the same page," bassist Gord Sinclair once told me. "We all agree on something, or we don't do it."
Downie's assessment of that special brand of Hip magic says it all: "Collectively, we have something unique. Whenever we reconvene, we're different. And we're always curious to see what comes next. We don't ever think of not doing it." While the man continues to heroically battle terminal brain cancer, I choose to accentuate the positive as I ready for watching tonight's concert. At the end of the show in Ottawa on Thursday night, Downie addressed the on-its-feet and rabidly cheering crowd of more than 10,000 strong, but he looked right at me when he said something that touched me deeply: "We will always be friends… forever." Yes we will, Gord. Your music lives on and on in many a heart, mind, and soul, and I'm truly honored the five gentlemen who comprise The Tragically Hip have continued to share their unique gift with us all. Fully completely.