BY MIKE METTLER
Richard X. Heyman is a rock & roll lifer. I first became exposed to his indelible brand of garage pop on his 1990 solo album Living Room!! (Cypress), instantly falling for the hooks of "Union County Line" and "Local Paper." (And, yes, I do have it on vinyl, folks.) Soon thereafter, I learned of his pioneering role in nearby Plainfield, New Jersey's '60s garage rockers The Doughboys, who continue performing live and releasing top-notch music to this day. ("Black Sheep," "Why Can't She See Me?,""It's a Crying Shame," and "YOYO" are but four of my favorite modern-era Doughboys tracks.)
Heyman's solo career has careened more toward the melodic side of the pop dial, though he does keep his garage roots intact. Last Fall, he conducted a successful Kickstarter campaign to fund his tenth solo record, naturally dubbed X (Turn-Up Records). I met Richard in New York City for lunch last September, and we spent a few good hours discussing X, how good The Beatles sound on vinyl, and our favorite records. Somehow, the tape of that rap session vanished like a ghost in the machine, so recently, Heyman and I reconvened to revisit the ins and outs of X, his favorite albums and influences both Beatles and otherwise, the ongoing saga of the Doughboys, and what he'll do next.
Mike Mettler: Congratulations again on X, which was one of my Top 25 albums of 2013. I continue to listen to it now, which shows how the songs resonate with me as a listener. To me, tracks like "The Difference Between Us" and "House of Cards" are great examples of your mastery of the pop music form. Does it ever get "easier" to write songs? How do you find inspiration for your melodies and hooks?
Richard X. Heyman: Thanks. The process has remained fairly consistent for me. I get melodic and chordal ideas first, and then I have to buckle down and work diligently on the lyrics. Inspiration can come by simply having a project to work on. If I have an album to make and need material to fill it, then I tend to start coming up with new song ideas. It's like a self-imposed pressure or deadline. Sometimes a melody can pop up out of the blue.
Another way is from listening to other music. For example, I heard a set of old Appalachian country and folk songs on the car radio, and when I got home, I had all that music swirling around in my head. I started writing a few songs, being very careful not to copy any of the melodies but using the general vibe of that stuff. And, of course, in the end, it's all filtered through my pop sensibilities and sounds nothing like Appalachian folk music.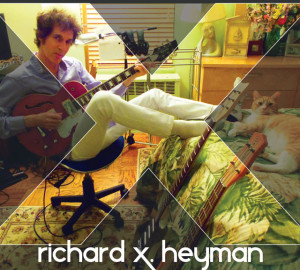 Mettler: You are essentially a one-man band, recording the majority of X at your home studio in New York City that you call The Kit Factory. What do you lay down first when you're recording, the drums? How do your songs typically unfold in terms of composition and structure?
RXH: Usually I start with the drums, which I record at a proper studio. I just don't have the equipment or space in our apartment, not to mention the risk of eviction. (On my last album, Tiers/And Other Stories [2011], I began with the piano, and then I took those tracks to the studio and played the drums to them.) Next, I (meaning Nancy Leigh, my wife and my engineer) load the drum tracks into our Logic Pro system. Then I'll lay down a rhythm guitar or keyboard. For electric guitars, I have a semi-soundproofed wooden box that I built with an 8-inch speaker inside, and a Shure SM57 mic in front of it. I use a Fender Vibro Champ amp externally to power the speaker. After that, I sing the lead vocal, followed by the harmony vocals and then background-type things like oohs and ahhs or interweaving parts, as on "Firing Line" and on the "all fall down" part on the chorus of "House of Cards." [Click on the link at the end of this sentence to see the "House of Cards" video.] Once the vocals are completed, I put on the bass and lead guitar parts, and last but not least, some percussion if needed, such as a tambourine or maracas.
Mettler: Harmonies are key elements of many of your songs. How do you construct them? "Firing Line" is one of my favorite examples of how you do that.
RXH: I always loved harmony singing and was and still am a big fan of The Everly Brothers and a lot of the artists that were influenced by them — Simon & Garfunkel, The Beatles, The Hollies, and The Byrds, to name a few. So I naturally hear harmonies when I'm working on a song. On "Firing Line," I think some of the inspiration is from The Mamas and The Papas and The Beach Boys. They used a technique where there are counter-melodies underneath the main vocal line. So I tried a few different ways to get that effect, and through trial and error, found a part.
Mettler: I hear 12-string guitars all throughout X. What is it you like about that "Rickenbacker sound"? Is there an X track that has your "favorite" guitar tone?
RXH: I guess I use the Rickenbacker 12-string because it's sitting right there and I can't resist. Sometimes I double a 6-string, either a Telecaster or a Strat, in octaves and it sounds like a 12-string — the solo on "Firing Line," for example. That song keeps coming up a lot! I like the guitars on the opening track, "When Denny Dropped Out of the Scene." That's a Strat on one side and a Tele on the other.
Mettler: How important is song sequencing to you? If X came out on vinyl, I feel like "Somebody Has Finally Found Me" would have been the perfect ending to Side 1.
RXH: Nancy and I both think about the song order. We try to get the best flow we can. Mix up the tempos and keys so things don't sound too same-y. It's different with CDs because it's all in one fell swoop, so, yeah, I agree: I would have ended the first side of vinyl with "Somebody Has Finally Found Me."
Mettler: There's a lot of debate about the ongoing viability of the album format in today's songs-on-demand digital world. Do you think the album remains a viable art form? What would you consider to be some of the best albums ever released?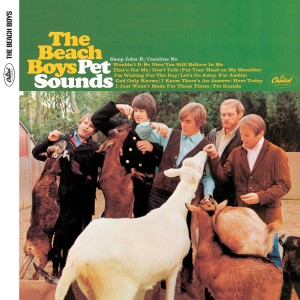 RXH: Well, you're asking the wrong person to question the album. As a bona-fide, card-carrying baby boomer, I grew up with the album. It seems logical if you like a particular artist that you'd want to listen to a bunch of their songs in one sitting. I wouldn't want to go to a concert and hear 14 bands each do one song. Those people who are quick to banish the album format to obscurity have lost sight of the fact that an album is an art form unto itself. As writing a novel is to an author, so is creating a cohesive album to a recording artist. Would they get rid of novels or any other type of writing that exceeds a few pages?
As far as a favorite album, there are too many to list here, but I'll give you a few off the top of my head, though I'm sure I'll forget some big ones. Let's just stick with rock albums. A Hard Day's Night, the American Rubber Soul, Help!, Revolver… oh, what's the point, I love all the Beatles albums. The first dozen albums by The Stones, The Kinks Kontroversy, Something Else, Face to Face, The Village Green Preservation Society, The Band, Jimi Hendrix's Are You Experienced? and Axis: Bold as Love, The Beach Boys Today, Pet Sounds, Dylan's first several albums and some later ones like Blood on the Tracks, greatest hits by Chuck Berry, Everly Brothers, Bo Diddley, James Brown, Sam Cooke, The Rascals, The Who Sings My Generation and The Who Sell Out, Love's Forever Changes, The Notorious Byrd Brothers, The Zombies' Odessey & Oracle… That said, I also grew up in the era of singles, so I appreciate the appeal and impact one song can have as well.
We literally don't have the space for a turntable in our apartment, though we still have hundreds of vinyl albums stashed away. I have mixed feelings about vinyl records. There's a nostalgic fondness for them because that's what I grew up with. They do transmit the analog sound of the music of the original recording, and mixing and mastering were analog as well. The problem is, many vinyl releases nowadays are from a digital source, so it kind of defeats the purpose. Some people will argue that the vinyl itself adds some beneficial audio quality. I'm not an expert, but I can't see how a needle dragging across a piece of plastic is adding anything to the sound. There is no question that a fully analog vinyl record has more warmth and is less brittle than a CD. The irony is that most listeners today, myself included, hear the majority of their music on tiny computer speakers.
Mettler: What, or who, inspired you to become a songwriter?
RXH: Growing up in the '60s, with all those great songs pouring out of the radio, was infectious. I guess I just caught the bug. And to a certain extent, I think it just came naturally — once I taught myself how to play the piano and later guitar, chord changes seemed to suggest themselves to me whenever I'd pick up an instrument. But some of the biggest influences are Goffin & King, Mann & Weil, Barry & Greenwich, Chuck Berry, Buddy Holly, Holland Dozier Holland, Brian Wilson, Laura Nyro, Del Shannon, John Sebastian, Lennon & McCartney, Bob Dylan, John Phillips, Jagger & Richards, Paul Simon, Graham Gouldman, Ray Davies, Gene Clark, Pete Townshend, Robbie Robertson, and Joni Mitchell, to name a few.
Mettler: You started playing drums at age 5, and have cited Gene Krupa and Buddy Rich as early influences. What was it about their styles that appealed to you?
RXH: They were the two biggest drum stars and they were both excellent musicians, but I was inspired by all the different drummers I'd see on TV or hear on jazz records my father bought. The thing with Gene and Buddy was how flamboyant (no pun intended) they were. It looked like a lot of fun to be pounding on those beautiful tubs.
Mettler: Do you remember the first record you bought with your own money? Do you still have it? What made it stand out to you?
RXH: I bought records as a young adolescent, but not with my own money. I would say the Bee Gees 1st album in '67 is when I had saved up enough money from playing gigs with The Doughboys to afford not only my own albums but I got a nice Dual turntable and stereo too. It was very exciting to have a stereo in my bedroom. I did love that first Bee Gees album; every song is a gem. I don't have the original one I bought, but I do have a vinyl version as well as the CD. There were a bunch of albums coming out at that point that I remember buying: Are You Experienced? (I learned a lot listening to Mitch Mitchell), The Crazy World of Arthur Brown, stuff like that.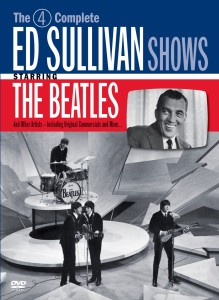 Mettler: Did you see The Beatles on Ed Sullivan [on February 9, 1964]? How did The Beatles affect you as a listener and, ultimately, a singer/songwriter/performer? And yes,  I know that's a bit of a loaded question…
RXH: I first heard The Beatles on New Year's Eve of '63 into '64. It was "I Want To Hold Your Hand" on WABC. Then I saw them perform "She Loves You" on The Jack Paar Show a few days later. I was awestruck on several levels. First, I couldn't believe they were a self-contained band. Other than The Beach Boys, you just didn't see that many bands with guys playing and singing. Then of course there was the visceral, cultural shock of their image. And most important was the music. "She Loves You" hit me really hard. It had all the elements I love about rock'n'roll — great Everly Brothers-style harmony, cool Chuck Berry-ish guitar riffs, and those chord changes which tugged at your heart strings. It was all too much, to quote George Harrison. By the time they appeared on Ed Sullivan, I was a certified Beatlemaniac. I sat about 3 feet in front of our 23-inch Zenith console with my entire family behind me, trying to soak in as much of it as possible. After the show was over, I went up to our attic where I had my drums set up in a spare bedroom. I knew I wouldn't be able to sleep that night, so I just sat behind my Kent drum set and lightly tapped the snare drum with my fingers because it was too late to play. That August of '64, I saw The Beatles live at Forest Hills Tennis Stadium, and later at Shea Stadium [August 15, 1965]. I could go on, but I think you get the picture.
Mettler: Tell me a bit about The Doughboys. Why is it fun to play and record with them today, after having planted the initial garage-rock seed back in the '60s?
RXH: The Doughboys, for those who don't know, was the band I played drums in back in the '60s. We formed in September of '64 and released two singles on Bell Records, and we were the house band at the Café Wha? in New York, 2 years after Hendrix got his start there. We split up by '69. After that, there were some short-lived combinations of the guys getting together in the early '70s, then we went our separate ways for, oh, 35 years. We got back together in 2000. It was going to be a one-off gig that Nancy had arranged as a surprise for my birthday, but turned into a now-14-year second act for the band.
One reason why it's so much fun is because I've known Mike Caruso (our bass player) since he was in first grade and I was in kindergarten, back in Plainfield, New Jersey. When you know somebody your whole life, there is a special bond, and that bond translates itself in our bass/drum rhythm section. And then there's Myke Scavone, who is so strong up front singing lead, playing blues harp, and putting on a riveting show. Sadly, our original guitarist Willy Kirchofer passed away in 2005 — he was a force of nature on guitar. Our "new" guitar player, Gar Francis, another Plainfield native, is a one-of-a-kind talent. He gets an incredible sound out of a tiny Fender amp without any pedals or gizmos. It's all in his fingers. Plus, he's a terrific songwriter. What's interesting and makes it so much fun is the fact that we're rocking harder and playing better than we did in the '60s!
Mettler: To circle back to X, do you have plans for a followup record yet, and will you call it XI?
RXH: Well, I did issue a bonus album from X called Y to the Kickstarter contributors. Currently, I've been writing a lot of songs for The Doughboys' next album, which we will be recording soon. I have been pondering what to do next for my own project. I was thinking of maybe a folky kind of album with acoustic guitar. I have some potential titles — All Folked Up or RXH Gets All Folk On Yer Ass. Or my favorite — a picture of Nancy and me ambling down a snowy Greenwich Village street and calling it The Jay Walkin' Richard X. Heyman. We'll see.
Tags:
Bee Gees
,
Buddy Rich
,
CD
,
Ed Sullivan
,
Garage Rock
,
Gene Krupa
,
Jimi Hendrix
,
Kickstarter
,
Living Room!!
,
music
,
Nancy Leigh
,
Ray Davies
,
Richard X. Heyman
,
The Beach Boys
,
The Beatles
,
The Doughboys
,
The Kinks
,
turntable
,
vinyl
,
X