BY MIKE METTLER – FEBRUARY 10, 2018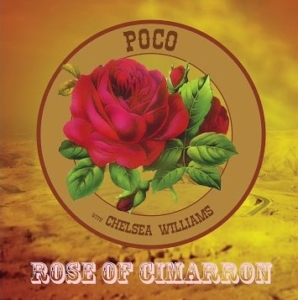 Blue Élan Records has just released a new version of "Rose of Cimarron" from the seminal West Coast country-rock band Poco. This classic track was penned by Poco co-founder, singer, songwriter, and multi-instrumentalist Rusty Young, and it became the hit title track to Poco's 1976 studio album. This new recording features Los Angeles-based singer-songwriter Chelsea Williams, who was named in November 2017 by Rolling Stone as one of "10 New Country Artists You Need to Know."
Yours truly, The SoundBard, saw Williams both open for and perform "Rose of Cimarron" with Rusty Young and Poco at City Winery in New York City on September 13, 2017, so I can personally back up that RS claim firsthand. (She's got the goods, folks.)
You can download/access Poco With Chelsea Williams' new version of "Rose of Cimarron" now on iTunes and Spotify.
Young wrote "Rose of Cimarron"in the early '70s when he was touring with Poco in Oklahoma. He saw a brochure that said, "Visit the home of Rose of Cimarron," and thought the words sounded like a song. While recording his debut solo album 
Waitin' for the Sun
 (2017), Rusty decided he wanted to remake the song, but this time include a female vocalist. "The song is
about a woman
, so I thought it would be interesting to revisit it including a woman's voice," Young noted. "That idea inspired me to write additional lyrics. Then, when I first heard Chelsea's voice, I thought she'd be perfect for the new version."
Williams added, "I was absolutely floored when I was asked to record 'Rose of Cimarron' with Poco. Not only did I grow up listening to Poco, but 'Rose' is without a doubt my favorite Poco song."
Recorded at Cash Cabin in Hendersonville, Tennessee, with inspirational relics like Mama Maybelle Carter's autoharp hanging on the wall, Young sat with Williams and taught her the new verse he'd just written specifically for the duo to sing together. "It was definitely one of those 'pinch me' moments," marveled Williams.
Waitin' for the Sun, Young's debut solo album, was released in September 2017, and it comes after a five-decade-long career that began in 1967 when Young was invited to play steel guitar on "Kind Woman," a track on what would become the final album by Buffalo Springfield, 1968's Last Time Around.
Soon after that, Rusty, Richie Furay, George Grantham, Randy Meisner, and Jim Messina formed Poco. Over the next half century – and alongside bandmates that would also include Paul Cotton, Rick Lonow, Timothy B. Schmidt, Jack Sundrud, and Michael Webb – Young became not only the musical core of the band, but also the writer and vocalist behind hits including "Rose of Cimarron" and the #1 1979 AC chart single, "Crazy Love," which was culled from the band's 1978 album Legend.
FEB 11           Sycuan Casino
El Cajon, CA
FEB 15           Emerson Center
Vero Beach, FL**
FEB 16          Coral Springs Center for the Arts
Coral Springs, FL**
FEB 21          Bergen Performing Arts Center
Englwood, NJ
FEB 22          F.M. Kirby Center for the Performing Arts
Wilkes Barre, PA
FEB 23          Tarrytown Music Hall
Tarrytown, NY
FEB 24           Infinity Music Hall
Hartford, CT
MAR 4-8        Rock N Romance Cruise
Ft. Lauderdale / Jamaica / Grand Cayman
APR 27         Admiral Theatre
Bremerton, WA
MAY 3            The Soda Fountain
Steelville, MO*
MAY 11         Thrasher Opera House
Green Lake, WI
MAY 12         Thrasher Opera House
Green Lake, WI
JUN 24           Rock, Ribs and Ridges
Vernon, NJ*Rusty Young solo show
**with Chelsea Williams
RUSTY YOUNG & POCO / CHELSEA WILLIAMS – SOCIALS